COVID-19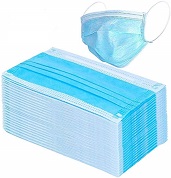 Due to the global pandemic, join us in the fight against the spread of COVID-19 virus as Ichisa Engineering (S) Pte Ltd will empower you with the essentials to protect you and your loved ones.
As the number of cases in Singapore increases exponentially, all of us have the part to play to put an end to this. We will be selling masks, hand sanitizers and thermometer to ensure that we have the ability to prevent this spread and stop this pandemic.
For those who find it a hassle to wear it, fret not! Our masks are comfortable and breathable! Not only that, our 3 Ply Masks are non-woven and a high filtration capacity! Not to mention each of the packet has 50 pieces of masks, sufficient for oneself to sustain for a month or to share among your family members.
Let us all be socially responsible. Stay at home, practice good hygiene and frequently monitor your own health. Going out? Wear a mask.
We wished all of you the best of health!